(Previously linked page wasn't helpful. It led to wiki at root path that normally redirects the user to the page of their choosing in preferences, changed the link to community page about SOAP)

Line 1:
Line 1:
−

This page is now being kept for historical information only, due to the merge with Fandom and the introduction of the combined [https://soap.fandom.com Spam Obliteration and Prevention] team.

+

This page is now being kept for historical information only, due to the merge with Fandom and the introduction of the combined [https://.fandom.com Spam Obliteration and Prevention] team.

 

----

 

----

 
 
---
Revision as of 12:28, 17 October 2020
This page is now being kept for historical information only, due to the merge with Fandom and the introduction of the combined Spam Obliteration and Prevention team.
---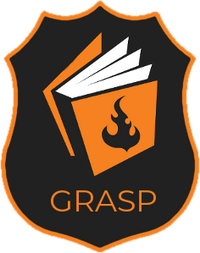 Members of the Gamepedia Rapid Anti-Spam Patrol (GRASP) are seasoned Gamepedia users with previous administrative experience and who have demonstrated good judgment. They help patrol wikis for spam and vandalism. The task force reports to MisterWoodhouse and Game widow and is managed day-to-day by Mr Pie 5.
What does GRASP do?
Assist existing wiki admins in removing spam and vandalism from wikis across the platform.
Handle spammers and vandals according to their offenses.
Who does GRASP consist of?
GRASP is made up of volunteers who meet the following criteria:
Are active on Gamepedia.
Have an established track record of responsible editing and administration.
Have been an admin on at least one Gamepedia wiki.
Rules and requirements
Don't get involved in wiki administration.

Only handle spam and obvious vandalism.

If you aren't sure, don't touch it and bring it up to local admins/Gamepedia staff.
Please consult with the wiki manager before creating or editing abuse filters for a particular wiki.
For particular spam making the rounds, bring it up to the Gamepedia team in the private Discord channel so the global abuse filters can be tweaked.
When making edits to remove spam/vandalism, include a link in the edit summary that points to this Help Wiki page. This helps users to understand what GRASP is.
See Blocking users for an explanation on guidelines for blocking users.
Basic rights
For a full list of rights, please see Gamepedia Help Wiki:Gamepedia Rapid Anti-Spam Patrol.
Report to GRASP
If you found spam pages or your wiki experiences a spam or vandalism wave, you can contact the GRASP team using one of the following ways. The spam pages will then be deleted and your wiki will be monitored by GRASP more frequently.
Current list of GRASP members