Jurassic World: Dominion Dominates Fandom Wikis - The Loop
Play Sound
Blocking users is an action that Gamepedia staff, wiki guardians and administrators, or members of GRASP can perform upon users or IP addresses to prevent them from editing the wiki.
Considerations
If you are patrolling a wiki with which you are not familiar, always defer to the administrators if you are unsure whether or not an edit is malicious.
Do not get dragged in to edit wars. Again, when in doubt, defer to the administrator. Bring it to their attention and let them handle it.
If the local administrator is unsure, please escalate to the wiki manager.
Blocking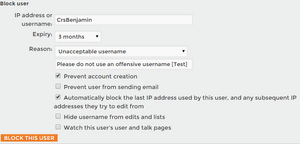 Blocking users is fairly straightforward. Visit Special:Block and follow these steps:
IP Address or username: Enter in the username, IP address, or IP range to block in the "User" field. If blocking an account, make sure to check the spelling since nonexistent users can be blocked as well. Instead of typing this information in manually, it is also possible to click on a "block" link in recent changes, contributions pages, or history pages, which will automatically fill in this field with the appropriate username or IP address. A "Block this user" link is also present in the toolbox when viewing User and User talk pages.
Expiration: Select when the block should expire from the drop-down, or manually type in an expiration time of the block. When manually typing in a time, follow the GNU standard format. The default options in the drop-down may be modified at MediaWiki:Ipboptions. Anonymous users should generally be blocked for no more than 2 weeks unless blocked consecutively, as IP addresses are more often than not dynamically assigned, and should never be blocked indefinitely. Named user accounts can be blocked for any period of time, including indefinitely.
Reason (optional): The reason selected from the drop-down combined with the other/additional reason specified will be used as the message displayed to the blocked user when they try to edit. The default reasons in the drop-down may be modified at MediaWiki:Ipbreason-dropdown.
Select additional block options (optional): Depending on if a username or IP is being blocked and other options that may have been enabled, some or all of these options will be displayed on the form. Please see mw:Manual:Block and unblock#Configuration settings related to blocking for information on how to enable or disable some of the following options.

Block anonymous users only: This option is only available when blocking an IP address. When selected, registered users who try to edit using a blocked IP address will still be able to edit. Otherwise, they will be unable to edit as well.
Prevent account creation: Selecting this option will prevent the blocked username or IP address from creating new accounts.
Prevent user from sending email: When this option is selected, the user will be unable to use the email user interface. If an IP address or range is blocked with this option, and it is not set for anonymous users only, accounts logged in from that IP address or range are unable to send email using that feature.
Prevent this user from editing their own talk page while blocked: Selecting this option prevents the IP address, range, or user from editing their own user talk page. It's recommended to give the IP or user the right to edit their own talk page in case they want to appeal a block or apologize, but this right can be taken away if abused.
Automatically block the last IP address used by this user, and any subsequent IPs they try to edit from: This option is only available when blocking a username. When selected, the user's IP will become "autoblocked" (these show up as numbers such as #17 on the active block list) for a short period of time and any other IP addresses that the blocked user tries to edit from will be blocked as well.
Hide username from edits and lists: When selected, the blocked username or IP address will not be added to the block log, the active block list, or the user list. Other users with the ability to view these hidden entries will still be able to see and unblock the username or IP address. This option is not enabled in a default installation of MediaWiki; the person putting the block in place must have the hideuser permission. See Manual:User rights.
Watch this user's user and talk pages: When selected, this adds the blocked user's user page and user talk page to your watchlist.
Add new or modifying existing global block: When selected (which it is by default), the user will not be able to edit any Gamepedia wiki while blocked, rather than just the one they're blocked on. If the user is already globally blocked, then the global block will be modified to comply with the new block settings.

Double-check everything you entered and click on Block this user. A message should appear saying if the block was successful or unsuccessful.
Unblocking
To unblock a username or IP address, go to the unblock page. This can be accessed from the contributions page of a user, list of blocked users, or just by typing it in manually in the search box. Then, provide the reason in the appropriate box, and if you accessed via searching, you'll need to enter the IP address or username as well. Finally, click "remove this block" to unblock the user.
Modifying blocks
To modify a block, go to Special:Block, and for the IP address or username box, enter a username that has already been blocked. The layout of the page is the same as Special:Block normally is, but all of the fields are already filled out with what the original block settings were. Change the settings as necessary, and update the reason field to explain the reason for the block modification. Some common examples of why one may want to modify block settings may be to revoke the talk page access for a user who has been abusing it, or to lengthen the block of a user if they, e.g. created another account to vandalize with while they were blocked.
What it means to be blocked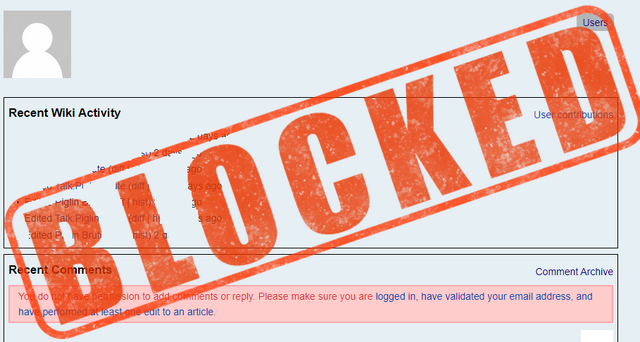 Blocked users are unable to edit pages, upload files, move pages, and perform other actions that additional user rights would grant. Effectively, this makes the wiki read-only for those users; attempting to edit while blocked brings up a message telling them they are blocked from editing. Until MediaWiki 1.17, sysops or others with access to the unblocking interface may still unblock others (as well as themselves if they have the unblockself right). However, since MediaWiki 1.17, blocked users who are in user groups that allow them to block nevertheless may not block or unblock other users while blocked.
See also